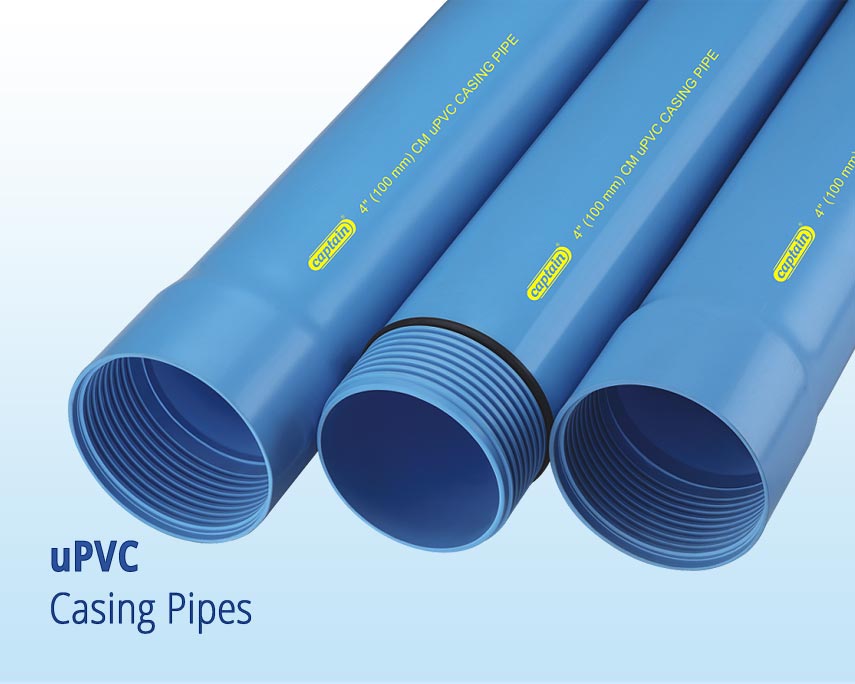 uPVC Casing Pipes
Properties
Suitable for bore or tube well supplies
Light weight offers total economy in handling, tranportation & installation
Seamless, strong & resilient
Longer lasting PVC is free from weakness caused by formation, rusting and weathering
Economically
Durable and maintenance free
Maximum ambient temperature : 70° C
Maximum installation depth - 80m to 250m
It can be installed Vertical inclined
Applications
Domestic wells, irrigation wells, industrial wells and mines
Waste Water (drainage & sewage)
Urban and Rural areas drinking water scheme
Specifications
| | |
| --- | --- |
| Product Name : | uPVC Casing Pipes |
| Range : | 1 1/2" to 16" Outer Diameter |
| Standard : | IS 12818:2010 |
| Colour : | Regular Blue |
| Length : | Available in 3 & 6 Meters |
| Grade : | CM & CS |
| Types : | Socketed pipe with thread ended |
Plain Pipes
These can be used as extension pipes to screen pipe. They are two types:
C.S. Pipe: For Shallow-Depth (up to 80m) Red Colour Code
C.M. Pipe: For Medium-Depth (up to 250m) Yellow Colour Code
Screen Pipes
These pipes may be plain or ribbed. They have transverse slots and are mainly used in bore well, from the water-table Level onwards
Ribbed Screen Pipes
These pipes have longitudinal ribs and transverse slots. The ribs keep granulated soil away from the slots, and increase the permeability rating to more than double when compared plain screen pipes.